Hi there! Welcome to All Things Yorkies. We are so glad that you are stopping by! Come on in and learn all kinds of information about these adorable and sassy little dogs.
A little background about All Things Yorkie
My name is Sarae, and I am the creator of All Things Yorkies! Yorkshire Terriers have been one of my all time favorite dog breeds since I was a little girl. Spending hours reading about them and researching them was, and still is so fascinating and fun for me. My bedroom was full of Yorkie stuffed animals, Yorkie figurines, and Yorkie books galore! I remember sitting at a computer looking longingly at pictures of these beautiful dogs, printing them out, and putting them in a little photo album, which of course had a Yorkshire terrier on the front of it. I would dream about getting one of my own.
One day, just before my 15th birthday, I somehow finally convinced my parents (mostly my mother who needed convincing) to allow me to get my very own Yorkie for my birthday! My grandmother had promised me that if my parents gave the go ahead, she would help me find a breeder, and purchase the dog for me. We ended up finding a puppy that shared my birthday, and we knew it was meant to be! The day we went to pick him up was easily one of the most exciting days of my life. One of my biggest dreams had just come true. I named my new little puppy Bentley.
Bentley and I quickly became very close, but his favorite person in our home was (and still is) my mother. Which is incredibly ironic considering she did not want anything to do with a dog in the first place! My mom fell in love with my little dog too, and before she knew it they were inseparable.
As time went by I moved out, got married, and started a family of my own. Although I offered to take Bentley when I moved out, we all knew exactly where he needed to stay. With his favorite person, my mom. I very quickly missed having a little Yorkie around and within a few years I was hunting again for one of my own.
In the Spring of 2013 I went through the exciting process, once again, of going to pick up my very own Yorkie puppy, and this time she would stay mine! Willow is now five years old, and is the cutest, spunkiest, and cuddliest Yorkie girl I know! She follows me everywhere (even into the bathroom) and tries to protect me from everyone and everything, including other dogs five times her size! She is feisty, and fiercely loyal. She is my love. She is my Yorkie. <3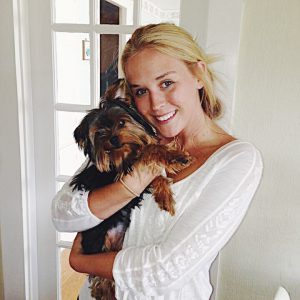 We want you to truly know your Yorkie and his needs
Our mission is to educate Yorkshire terrier lovers, all over the world, about this incredible breed. We want Yorkie owners everywhere to know all they can about their little pup so that you both can enjoy a long and happy relationship with one another.
We also want prospective Yorkie owners to learn all they can about this breed before they bring a little one home. It is so important to know specifics about the type of dog you are interested in before you make a commitment. All breeds have different personality traits, common medical issues, and care requirements.
We care about you and your pet, and our desire is for your relationship with your Yorkie to be long lasting, and unforgettable.
Your pup deserves the very best
Your dog is a valued and important member of the family. He deserves to eat high quality delicious food, and treats, he deserves the best products on the market, and he deserves to be spoiled with toys, beds, and even doggy clothing! (If you like that kind of thing!)  😉
Here at All Things Yorkies, we work hard to review products, teach about nutrition and care, and show you all of our favorite fun items for your little pal, so he can have nothing but the best!
Although our focus here is on Yorkshire Terriers, many of the products we review are applicable to all small dogs, and some of them for big dogs as well! So even if you are not a Yorkie owner, but you have a cute little Maltese curled up on your lap right now, we hope you will stick around and check out our Bark Blog for reviews and small dog accessories! 🙂
Our goal here at All Things Yorkies
We desire to help others to be responsible pet owners, make lifelong commitments to their new family member, and be knowledgeable about how to care for them properly. Dogs will love you with unconditional love. It is our responsibility to give them that kind of love in return!
If you can't find what you're looking for on our website, or have any questions, feel free to leave them below or email us at allthingsyorkies@gmail.com and I will be more than happy to help!

All the best,
Sarae
allthingsyorkies.com
Share and like us on Social Media!