One of the most common questions I get from people who are interested in adding a Yorkie pup to their family is, "Are Yorkshire Terriers Hypoallergenic? I've heard they don't shed, does that mean they won't bother my allergies?"
The answer to this question is a little tricky. It isn't a simple yes or no answer. So let's get into it shall we?
What exactly does Hypoallergenic mean?
Hypoallergenic means there is a decreased tendency to provoke an allergic reaction. A hypoallergenic dog breed is less likely to cause allergy symptoms in a person, but it is not guaranteed that you will be allergy free. Whether a person who suffers from allergies to dogs, can own a dog that is labeled as hypoallergenic, depends on what it is that causes their allergic reaction to a dog. Allergic reactions occurring while spending time with a dog can be caused by a few different triggers.
– Dander is definitely #1 (dead skin flakes). Dogs that shed heavily tend to produce more dander than dogs that do not. When they shed, dander is coming off of their body and into your home.
– Another trigger is saliva. This is pretty much impossible to avoid with ANY dog. They will give kisses, and lick themselves which of course leaves saliva on their body.
– Even dog feces can be a trigger in really sensitive people.
All dogs have dander, saliva, and go #2. Therefor, no dog should be expected to keep you completely clear of allergies.
Why Yorkies get labeled as Hypoallergenic dogs.
Yorkies have hair, not fur, which means they have no undercoat.
They do not produce as much dander because of their coat type.
They do not shed nearly as much as dogs with fur.
You might be thinking, "Wait, I thought that Yorkies don't shed at all, is this true?"
Well, not exactly…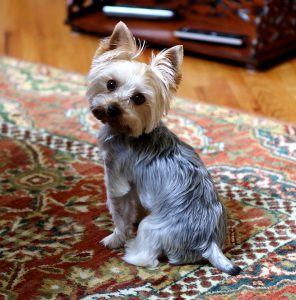 Yorkies are given the non-shedding label because their shedding process is much different from most dogs. The majority of dogs go through a massive shedding process a few times a year. Huge amounts of hair fall from the coat, and new hair replaces it. A Yorkie's shedding process is much closer to how a human sheds hair. They lose older hairs here and there which are pushed out, and replaced by new hairs. These hairs either get stuck in the Yorkie's coat, or they go unnoticed in your home because there isn't much shed at a time. It also looks so much like human hair that you may even think it's your own.
They certainly don't leave hair everywhere around your house. I rarely find hairs lying around from my Yorkie, so to me, she is definitely a non-shedding dog compared to most, however they do lose hairs and grow new hairs much like a human does.
Get Your Allergies tested.
Depending on what triggers your allergies to dogs, you may or may not be able to have a Yorkie in your home.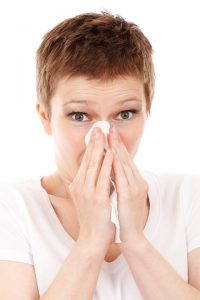 I know a few people with allergies to dogs that do great with a Yorkie, and their allergies are not affected. In their cases, they are probably bothered more by a heavy shedding dog.
Unfortunately, I also know some people that are allergic to ALL dogs. Yorkshire Terriers included.
If you have any kind of allergies to dogs, you should get some further testing done to determine what exactly triggers your allergies before you add a dog to your family. At the very least, spend a considerable amount of time around a friend or family member's dog that is a hypoallergenic breed, and see how your body reacts.
Interested in learning more about Yorkshire Terriers and their characteristics? Check out this post!
Want to learn an easier AND faster way to potty train your puppy?? Click here!
Share and like us on Social Media!