Yorkies require a well-balanced diet that is filled with beneficial nutrients. The right ingredients will keep them healthy, thriving, and at a good weight. This post will focus on manufactured dry dog foods. These are foods that are made by a company, on a large scale, and are purchased in store or online by pet owners.
The best food for Yorkies would be a hard food that is packed with only ingredients that are specifically created to fulfill all the nutritional needs of your pet. I will be walking you through a guide of what types of ingredients need to be included in your Yorkies food, and I will talk about a few of my favorite food options that are on the market for a Yorkshire Terrier today.
Diet Requirements.
Proteins – Protein is a very important part of every dog's diet. It plays the biggest part in the growth of your dog, and is the key ingredient for developing strong muscle. Protein also aids in the prevention of sicknesses. The foods that I recommend are around 30-45% protein. In my experience, the foods with a little higher protein percentages tend to not have the unhealthy fillers, and chemicals. Because Yorkies are small, and have tiny tummies, they do require a higher intake of protein for their body weight.
Fats – There needs to be an appropriate amount of healthy fats included in a dog's diet. Fats are an excellent source of energy for your dog, and they provide your dog with essential fatty acids (EFAs). EFAs contribute to keeping the dog's kidneys functioning well, and for healthy reproduction. They also keep a dog's skin healthy, and they keep a Yorkie's coat silky, shiny, and strong. Fats make your dog's food taste extra yummy to them, but make sure you aren't buying a food that is too high in fat content. Too much can definitely lead to an overweight Yorkie!
Vitamins and Minerals – Vitamins and Minerals are good for so many things. They aid in keeping the coat in good condition, they are good for the eyes, helps promote growth and strong bones, helps prevent diseases, and so much more. Rest assured that most dog foods that have the accurate amounts of healthy proteins, fats, and carbs, will also have the right vitamins and minerals as well!
Carbohydrates – Carbohydrates are also good for energy, but again, be careful of dog foods that are made with high concentration of Carbs. Carbohydrates turn mostly into glucose in the digestive system, and can cause unwanted health conditions if its given in too large of quantities.
*There is actually some debate in the Canine world of whether Carbs are actually NEEDED in a dog's diet. For this reason, I like to choose a food that uses fruits and vegetables as the majority of the Carbohydrates. This is the healthiest form of carbohydrates you can get, so finding a dog food that has some healthy "plant" material in it is the way to go.
What types of Protein are good for Yorkies?
There is not really a specific protein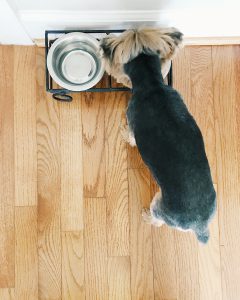 that is better for Yorkies than others. Chicken, Turkey, Lamb, Fish, Pork, and Beef are all common and good options for your dog.
What you want to look out for is the first ingredient being a protein byproduct. This is a no no. Byproduct is "meat" made up of parts of the animal that is NOT muscle…. In my mind, that means it is NOT meat… Not that I would want to eat anyways, so I don't feed it to my dog either. You want the first ingredient to be chicken, (or de-boned chicken), or beef, or turkey (or de-boned turkey), or whichever proteins the food is made out of, without the word "byproduct" next to that protein. Real meat derived from an animal's muscle is much healthier for your pet.
It is OK if foods have protein-meal in them. (chicken meal, turkey meal, etc.) This simply means that the ground meat has been dried to a moisture level of around 10%. The drying process actually makes the protein levels much higher in the meat, and if done correctly it will still hold its nutritional value. I prefer to see this AFTER the first ingredient, but it is a great source of healthy protein for your dog.
Some dogs, including Yorkies, may have food allergies. In most cases a dog will either be allergic to the grains or the type of protein in a food. Chicken, Turkey, and Beef are some of the more common protein allergies for dogs. For the more sensitive pet, it is better to go with duck, lamb, or a type of fish. Meat that is more exotic is typically better for dogs that suffer with food allergies. There are also grain free foods, and foods made with whole grain which are great to try as well.
Having a dog with food allergies can be difficult. It a trial and error process figuring out what your dog is and isn't allergic to. It can take months, to even a year or more, to go through the process of elimination. Stick with it though, your dog will thank you for it!
*We will get more into food allergies in another post. My Yorkie suffers with allergies, so I know how hard it can be.
Avoid "fillers" and anything artificial.

Fillers are exactly what they sound like. They "fill" up the food with empty calories that offer zero health benefits for your dog. Yorkies are small and they only eat a small amount of food each day. Therefore, it is really important that the food you purchase for them does not contain fillers. Every part of their food should offer some kind of nutritional value to the dog or they can end up developing the rather yucky habit of Coprophagia. – (eating feces). Dogs tend to do this when they are not getting enough nutrients from their diet… yucky… so let's keep our dogs eating ONLY dog food. Am I right? 🙂
Artificial colors, flavoring, and preservatives are all forms of chemicals that are added to dog foods. These should also be avoided as they can actually cause allergic reactions in Yorkies (and all dogs for that matter), and can upset their little tummies. This can make for a messy situation and an uncomfortable pet, so definitely say no to fake additives.
My Top 3 Recommendations.
Wellness CORE

(Turkey and Chicken recipe) – Wellness Core is a complete and balanced food that is made specifically for small breeds and their delicate digestive systems. It is protein rich with optimum calorie levels to support higher energy needs of little dogs. Other pros about this food are as follows:
GRAIN FREE: 100% grain free.
ALL NATURAL: No wheat, corn, soy, meat by-products, or artificial colors, flavors and preservatives.
MADE IN USA: Which is definitely a good thing!
Dry Matter basis – Protein 37%, Fat 16%, Carbs 39%
2. Merrick Grain Free

(Real Duck and Sweet Potato recipe) – This one is also grain free. Even if your dog does not suffer from grain sensitivities, he/she can still benefit from a grain free diet. It helps promote a well functioning digestive system, increases energy, and aids in healthier skin. A lot of dogs that are sensitive to specific proteins don't do well with chicken recipes, so this is a good chicken free option. It is also very high in protein for a grain free food! Thumbs up to that!
GRAIN FREE
ALL NATURAL
MADE IN THE USA
Dry matter basis – Protein 43%, Fat 19%, Carbs 30%
*Note* If you'd like to try a Merrick grain free food that is specifically geared towards small breeds, try Merrick Lil' Plates. I highly recommend the Real Salmon and Sweet Potato recipe, and the Lamb and sweet potato recipe. These are both just as good of options as the one above, and the food bits are smaller for those tiny Yorkie mouths. 🙂 
3. Pinnacle Grain Free

(Salmon and Potato recipe) – This food also does not contain any chicken or grains. It has pumpkin which is great for the immune system, and quinoa seeds, which provide amino acids, to support muscle development
GRAIN FREE
ALL NATURAL
MADE IN THE USA
Dry matter basis – Protein 30%, Fat – 16%, Carbs – 45%
Do you see a trend here? 😉
*One con about this food – It contains canola oil. Because canola oil is sometimes derived from genetically modified rapeseed, this can be an iffy ingredient. It is not always derived this way however, so it is a controversial subject.
4. Acana Heritage Meats 

(Beef, Pork, and Lamb recipe) – This food has a lot of great ingredients in it! It has a decent amount of protein from various sources, and it has pumpkin, lentils, fruits and veggies galore! This is a great food as well.
GRAIN FREE
ALL NATURAL
MADE IN THE USA
Dry matter basis – Protein 33%, Fat 19%, Carbs – 40%
So… Is it obvious that I think grain free is a good choice for a Yorkie??  🙂
How much and how often should a Yorkie be fed?
Yorkies need to eat more often when they are puppies, but as adults they are fine with eating twice per day. I like to do a morning meal and an evening meal.
The dog food you choose will likely give you a chart on the back of the recommended amount to feed your dog daily based on his or her weight. Most of the time Yorkies eat somewhere between 1/2 cup and 1 whole cup of dry food each day. My pup eats about 1/2 cup in the morning and 1/2 cup at night, and she is a relatively active dog. She lays around a lot now that she is five years old, but when she goes outside she still tears around the yard like a mad woman, thinking she can catch all the birds before they take off. 


Don't Skimp on your Yorkies Nutrition.
A dog's diet is essential for a healthy, happy, and long life. Yes, the better foods are more expensive, naturally. But, there is good reason for this. Foods that contain chemicals and fillers, and non-beneficial ingredients can do extensive damage over time. Diseases, allergies, cancer, and gastrointestinal discomfort are all issues that have happened because of poor doggy diets over a long period. Think of all the health problems humans can develop if we are nutrient deficient.
Animals are the same way!
Lucky for us Yorkie owners, they don't eat a whole lot! So the expense doesn't seem nearly as bad. Imagine buying a huge bag of expensive dog food for a 90lb lab that woofs (no pun intended

) it all down in one short month! Be thankful for your Yorkie's teeny belly, and fill that belly with healthy nutritious dog food to support a long and wonderful life for your best friend!
Have you tried any of these foods for your Yorkie pup? Let me know if you have, and how you like them in the comment section below! My Yorkie, Willow, is on the Merrick Lil' Plates real lamb and sweet potato to help with her food sensitivities, and she's doing well on it so far.

– Save this information for later, and help us spread the word by pinning this post to Pinterest!
Hover over the photo to see the Pin it option.
*Click here to read about the best food for Yorkie Puppies! – Puppies need a food that is specifically formulated with the proper amount of ingredients to promote growth, brain development, and to assist in the prevention of a hypoglycemic attack. They should be on puppy food for the first year of their life.
*Looking for a great harness for your small dog? Check out this post to see my dog Willow's top choices and recommendations! 😉
Share and like us on Social Media!