There are many reasons why a dog stroller would be a helpful tool to have on hand for your dog. In this post we're going to look at some dog strollers for small dogs, and talk about which kinds might be best suited for you and your pup!
Get a dog stroller they said… It'll be fun they said…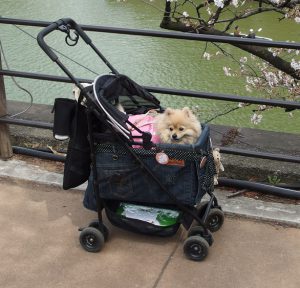 No, but really!! It WILL be fun! 🙂
Let's look at some reasons why you may want to add a stroller to your list of must haves for your little dog.
1. To prevent injuries. – Sometimes there are places that you may want to bring your little dog, but it is so crowded that you are worried about them getting stepped on or kicked. A stroller can put your mind at ease, knowing that your dog is safe, and not getting caught under people's feet.
2. So your dog isn't stressed or afraid. – To go along with the first reason, some dogs get really stressed or fearful in situations where there are a lot of people. A dog stroller can help your dog feel safer and more secure, so that he can relax on his journey with you.
3. To take longer walks. – Some small dogs get tired after walking for only a short time. Keep enjoying your walk while also giving your little dog a break in his or her stroller.
4. To keep people from touching your dog. – Maybe your dog gets nervous around kids, or maybe he or she would simply prefer not to be pet by strangers. A stroller is a great option to keep your dog from being pet. Dog strollers come with protective mesh windows to keep your dog safely inside.
5. To allow an elderly or disabled dog to come along with you. Maybe you have a senior dog, or a dog that is unable to walk long distances due to an illness or arthritic joints. A stroller is a perfect solution to be able to keep bringing your pet with you on your excursions!
6. To give your pup some shade. – Maybe you are bringing your dog to the beach, or a park that doesn't have many shaded areas. Just pop your pup in their stroller and they can take a little break from the sun in their own personal cabana. 😉 It is also great for keeping you dog's paws off of very hot pavement.
7. Because WHY NOT?! – It is a fun and adorable way to bring your pet along with you, and it'll be sure to make some people smile!
 Excited to read about some strollers? Let's get to it!
We've done some research and combined our personal knowledge and experience, with other reviews and experiences, to bring to you our top 5 dog strollers for small dogs. Here we go…
---

1. VIVO Four Wheel Pet Stroller – This stroller features three zipper access points for getting your pet in and out. The interior is spacious for a smaller pet and has a padded foam bottom for comfort. The stroller has two mesh front windows for ventilation, and for visibility so your pet can see the world. It also has an additional small mesh window near the handle bar for you to keep an eye on your little one. It includes a canopy for protection from the sun, and an underneath storage basket for belongings. This stroller comes in 8 fun colors, and is suitable for pets weighing 30lbs or less.
Additional Pros:
Two cup holders and center tray for keys, cell phone, or doggy treats.
Conveniently folds for easy storage.
Locking back wheels for safety.
Very good price.
Cons:
Some people expressed concern about gaps that are left even after everything is zipped up, which could allow for frightened animals to escape if they are not hooked in.
The wheels are made of plastic. There are a few complaints that they don't hold up very well, and that they wobbled. One reviewer said, if it was made with rubber wheels instead, it'd be perfect.
A couple people mentioned that when your pet is sitting towards the back of the stroller, the whole thing has a tendency to tip towards you.
There were some complaints about the directions not being very clear on how to assemble.
This is not a great option for jogging or off-roading adventures.
Our Overall Rating – We give this stroller a 7 out of 10 overall rating. Many people love this stroller, and it is rated with 4.3 stars on amazon with over 900 reviews. We like that this stroller is lightweight and very affordable, but it does seem to have some issues with escape artist pets, and the possibility of it tipping is a bit concerning.
---

2. Paws & Pals City Walk N Stride Pet Stroller – This is a great stroller for the price. It also has mesh windows for your pet to view his surroundings and get adequate airflow. It has zippers along the mesh windows so that you can get your pet in and out, and there is a storage basket underneath the unit. There is a canopy to protect from rain and sun, and it is very lightweight. This stroller is small and better suited for one pup, or two very small dogs about 7lbs or less.
Additional Pros:
Two cup holders and a center tray for storing personal items, or puppy items.
Folds for easy storage
Back wheels lock for safety
Very affordable price.
Cons:
Some people had problems with the zipper breaking.
There are some gaps left after zipping up where a pet could escape, however this seemed to be more of an issue with cats.
The wheels are plastic and a decent amount of people had problems with them breaking or not rolling well on certain surfaces.
A couple people complained that it didn't ride very smooth.
Definitely not a good option for jogging or walking/hiking on rough terrain.
Our Overall Rating – We're giving this stroller a 6.5 out of 10 rating. This stroller is super affordable and could be the perfect fit for a laid back pet, who will not look for small gaps to escape from. It would also work just fine for non-rough terrain type excursions. However, because the price point is low, the quality does seem to suffer a bit on this model. If you want a cheap option to tote your senior dog through the mall, I'd say go for it. However, you'd be better off saving for a more expensive model if you want to take your dog jogging through the park.
---

3. Zephyr 3-Wheel Pet Jogging Stroller – Here we have a good option for a jogger. This is an affordable jogging stroller for small dogs up to 27lbs. It has a retractable awning, an underneath storage basket, and even has reflective safety strips if you like to jog late at night, or early in the morning. It has a spacious pet enclosure with zipper access, and a large mesh window for ventilation, and your pet's viewing pleasure.

Additional Pros:
Two cup holders and a center tray for your personal items.
Folds for easy storage.
Rear wheels lock for safety.
Good price point.
Easy assembly.
Interior leash to attach your dog for safety.
Great for strolling, or jogging on fairly smooth terrain.
Cons:
The wheels are plastic and will not be able to handle very rough terrain.
Mesh panels are higher up so a dog can only see outside while sitting up, not while laying down.
Our Overall Rating – This stroller deserves an 8 out of 10 rating. It has very good reviews, and most people had little to no complaints. It is great for walking and jogging on a fairly smooth surface. The wheels are not top-notch quality, so rough terrain could cause them to break. If you want your dog to be able to see outside while laying down, you may want to look at different options, but other than that, this seems to be a great choice for easy going adventures with your pet!
---

4. Pet Gear No-Zip Special Edition Pet Stroller – If you want a better quality jogging stroller that will hold up over slightly rough terrain, this stroller would be a great option for you. It has special No-Zip technology, meaning that there are no flimsy zippers to deal with. It clasps and locks shut quickly with special clips designed to make the entry and removal of your pet much more convenient. This stroller features a panoramic viewing window so your dog can really see the world around him. It has a canopy for weather protection and is made with water resistant   materials. It comes in 4 fun colors and is suitable for pets up to 45lbs.

Additional Pros:
Has cup holder and storage tray.
Folds for easy storage.
Has an under carriage storage basket.
Rear wheels have safety brakes.
Front wheel can lock up for use over rough terrain.
Elevated paw rest, so your dog can stand up higher within the pet area.
Interior tether for safety.
Can be taken on slightly rough terrain.
Cons:
A bit on the pricey side.
Quality control of the fabric seems to need some work. There were a lot of wonderful reviews, but there were a handful of one star reviews due to stitching coming undone along the seems and holes forming as a result.
Some said that the assembly was challenging.
Our Overall Rating – We have given this stroller an 8.5 out of 10 rating. This stroller seems to be a great pick for an owner that wants a sturdy, and a versatile stroller for walking, jogging, and some rougher terrain type adventures. However, the quality control of the fabric needs some attention. Many people had no issues, but there is a small group of people that experienced stitching coming undone and tearing. The majority of the poor reviews were from a year or two ago or more, so perhaps the quality has improved recently.
---

5. Pet Gear No-Zip NV Pet Stroller – This is our favorite option. Pet Gear makes a few different model strollers, but our top pick is the NV stroller. It has the No-Zip technology with special clips that lock into place so that you don't have to hassle with zippers. It has a panoramic view window, and a canopy that can be used in three different positions. Your pet will love taking in all the sites and sounds, while also being protected from the sun! The stroller also has an elevated paw rest in the pet area so that your dog can stand on it for support to get an even better view. Some of the best parts about this stroller are the 12-inch Air Ride Tires that offer an incredibly smooth ride, and the option to lock the front wheel for traveling over rough terrain.

Additional pros:
Tires are suitable for strolling, jogging, and rough terrain hiking.
Comes with a plush bolster pad for your pet to sit on for maximum comfort.
Comes with a rain cover
Suitable for pets up to 70lbs, so it could easily accommodate two dogs, and even three dogs if they are all fairly small.
Folds up for easy storage.
Has two cup holders and storage tray.
Has a basket underneath for storage.
Rear tire brakes for safety.
Sturdy and durable.
Cons:
Price is high.
Stroller is heavy.
One person mentioned that the cup holders are a bit shallow, and will only hold small bottles/cups in place.
A few people mentioned having trouble with the front wheel wobbling, and a couple people even said that the wheel fell off.
Our Overall Rating –This stroller gets a 9 out of 10 from us. We love the durability and versatility that this stroller offers. You really can take it just about anywhere. The majority of reviews were very good with customers raving about the quality, ease of use of the no-zip feature, and the smooth ride it offers. This stroller, however, is not lightweight, and is more for all terrain types. If you are looking for a simple stroller for smooth terrain only, then you may not want to fork over the higher price for this one.
---
A final word on dog strollers.

Strollers can be a fun, convenient, and sometimes necessary way to bring your pets along with you on adventures. However, if your dog is physically able to walk, make sure you don't use the stroller in place of taking your dog for walks. Dogs love walking. They crave it in their inner-most being. It helps to keep them healthy and strong, both physically and mentally. Strollers ideally should be used in situations when it is safer, easier, or needed for the dog. Yes, they can be used just for fun too, just make sure you satisfy your dog's desire to walk as well. 🙂
Although these strollers have little canopies to protect from bad weather and sun, be sure not to leave your dog in the sun for extended periods. It can still get very hot inside, and a dog can easily become overheated. Be sure to check on your pup regularly and bring plenty of water to keep him hydrated.
We hope this article helps you pick the perfect pup stroller for your hiking, jogging, or leisurely walking needs. Best of luck to you, and your pet, on all of your adventures!


If you have any questions or comments for us, please leave them in the comment section below! Willow and I will be sure to get back to you. 😉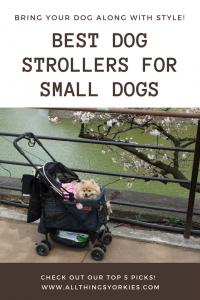 – Save this information for later, and help us spread the word by pinning this post to Pinterest!
Hover over or tap the photo to see the Pin it option.
*Did you know that it is much safer for a small dog to wear a harness rather than a traditional collar? To find out why, and to see reviews of our favorite harnesses for small dogs, click here!
Share and like us on Social Media!