Don't you just love a freshly bathed, super soft, wonderful smelling puppy dog?? I know I do. My Yorkie, Willow, and I always have a long snuggle "sesh" after she's all squeaky clean and smelling delicious! 🙂
Today we are going to teach you how to bathe a Yorkie, talk about which products we like to use before, during, and after bath time, and how to keep your pup fresh and tidy in between baths as well.
How often should you bathe a Yorkie?

Many Yorkie owners prefer to give their pup a bath once per week. This is OK for some Yorkies, but many will need to be bathed less often. Shampoo can be very drying, as its main purpose is to remove oils and dirt from the hair and skin. Dogs need time to replenish these natural oils in between baths in order for their skin and coat to remain healthy, shiny, and soft.
My Yorkie, for example, has skin allergies, and very sensitive skin in general. If I bathe her too often it can dry her skin out, and make matters worse for her. For this reason, I typically only bathe Willow once every 3-4 weeks unless she gets into something that requires a prompt trip to the tub.
If your dog is getting too itchy, or is developing dry patches, or dandruff while on a weekly bathing schedule, try reducing their baths to bi-weekly, or once every three weeks and see if this corrects the issue.
 Bathing supplies.
(Click blue links to view on Amazon! – Supplies also shown in video tutorial below)

You will need:
1. Comb – We use a steel grooming comb like this one by Andis. It is great for removing tangles, and separating out the hair before and after baths.
2. Brush – I am obsessed with my double-sided brush I have for Willow. The pin side is perfect for general brushing and removing tangles, and the bristle side it great for smoothing the coat, and removing loose hair that is stuck in the coat.
3. Slicker Brush – I like to use a slicker brush to get deep into my dogs coat, and remove loose hair and dead skin before her bath. It makes the bathing process easier, and your sink or tub will be less clogged by the end of it as well!
3. Shampoo and Conditioner – Make sure you are using high quality shampoo and conditioner which is designed for dogs. Do not use human shampoo on your pup. The pH balance is not correct for dogs, and it will dry out their skin and coat. We're a big fan of Burt's Bees Oatmeal shampoo and conditioner for dogs.
*Note* If your dog has skin allergies or other skin issues that causes them to itch, check out this post where we talk about some really great dog shampoos for itchy skin! These are all products that I have personally used and liked for my Yorkie.
4. Leave in Spray – This is very important for Yorkies. It benefits their coat and skin in many ways, and can be used often to keep your dogs coat in tip-top shape. We will chat more about this below!
5. Scissors and/or Clippers – You will only need these things if you plan on trimming up your dogs face and sanitary areas after a bath. I do this after every bath with Willow, but if you'd rather leave that job to a groomer, that is perfectly understandable!
6. A hair catcher for your drain – This is pretty self explanatory. Your sink or tub pipes will thank you!
The Bathing Process.

Bathing a Yorkie is really quite simple once you've got the hang of it!
I have created a video to show you exactly what I do for my Willow, so that you can go into your first bathing endeavor with confidence and grace! 😉
– The Video is below this list if you want to skip reading and just watch, but here is a step by step, written out version, for those that would rather read instead!
1. Brush your dog out completely, being sure to remove all tangles and snarls. This also helps to separate the hairs for a more thorough cleaning. Use a gentle hand, and do not rip at tangles. Work at them slowly and carefully so that you do not hurt the dog. If needed, spray in a little de-tangler before working on the knots.
2. Use a slicker brush on your Yorkie, to get deeper into the coat, and remove loose hair and dead skin. Be careful when using this brush on a Yorkie. They are designed to reach deep into a coat, but Yorkie's only have one thin outer coat, as opposed to most other dogs that have an inner coat and outer coat. Because of this, the slicker brush can scratch and hurt your dog's skin if you are using it with too much pressure.
3. Place the dog into the tub or sink, and find the right water temperature before you spray or pour any onto the dog. The water should be comfortably warm, but not hot. For dogs with severe skin conditions, water on the cooler side (without being cold) is usually best, to prevent further inflammation. I like to put a small amount of shampoo at the bottom of the sink or tub, and fill it up with just about an inch or two of water. This allows for ultimate soaking/cleaning for your dogs feet.
4. Spray your dog down until they are completely saturated. If you do not have a sprayer, use a cup and fill it with water to pour over them. Be gentle and talk to your dog through this process, as most are not a huge fan of this part. Be very careful not to spray or dump water right into your dog's face. You want to avoid getting water into their ears, nose, eyes, and mouth as much as possible. I like to use some water that is still in the bottom of the sink, cup it in my hands, and bring it to my pup's face carefully, so I can avoid getting it into those areas.
*Note* – It's a good idea to use large cotton balls, and place one into each of your Yorkie's ears in order to prevent water from entering in. Water in a dog's ears can easily cause an ear infection to develop.
5. After I have my dog totally wet, I drain the water, and begin to suds her up with soap. Work the soap over their entire body, massaging it in so that it reaches down to the skin. Again, be extra careful around the face, try to avoid getting soap into the dogs eyes, nose, ears, and mouth as much as you can.
6. Read the back of your shampoo label to see if the shampoo needs to sit or not. Some do, and some do not. After it has sat for the designated amount of time, it's time to rinse! It is so important to be super thorough with your rinsing. If any shampoo is left on the dog at all, it could cause dry skin and itching. Take your time, and make sure all the soap is rinsed away.
7. After shampoo, comes conditioner. Again, follow the instructions on the back of the conditioner bottle. Smooth it onto your dogs coat, and then rinse that away as well.
8. Comb out your dogs coat to release any tangles that may have occurred during the shampoo process. This also helps to stimulate the skin and get natural oils flowing again after a bath.
9. Towel dry your dog until the excessive moisture is gone. Remove any left over eye gunk with the towel, and gently rub the inside of your dog's ears (not deep into the canal, but just the area you can see) to remove any dirt, or wetness. While your dog's hair is still damp, spray on their leave in conditioner and comb it through gently. Then either blow dry your pup, or allow them to air dry in a warm environment. Willow detests the blow-dryer, so I allow her to air dry most times!
10. Once your dog is at least mostly dry, you can work on trimming up the fast growing, and "problem" areas. I like to trim around Willow's eyes, her potty areas, her tail, and I re-tip her ears. If this is too intimidating to you, that is 100% ok, but this will be something that needs to be done by a groomer every 4-8 weeks, if you are not comfortable doing it on your own. You can carefully trim around a dog's eyes with scissors or clippers, but make sure you hold your dog's head very still. A gentle but firm grip will be needed to make sure they don't make any sudden moves. For the other areas, it is easiest to use clippers. Always clip the hair in the direction of growth, or else you will end up with bald spots on your sweet pup! Be very careful around the extra sensitive potty areas. Do not go right over the actual skin with the clippers, graze over it to cut the hair, and clip all around it. These areas are easier to cut, so again, use great care.
11. Brush your dog again to give their coat a finished and smooth look. Add a bow or a bandanna if you'd like. 🙂
Video Tutorial – Featuring the Beautiful Willow girl. 😉 
How to keep your Yorkie fresh in between baths.

My two favorite ways to keep Willow smelling and looking fresh in-between her baths are: Leave-in Conditioners, and Dry Shampoos.
Leave In Conditioner
As I mentioned above, leave in conditioner should really be considered a necessity when it comes to Yorkshire Terriers. It is incredibly beneficial to their skin and coat. These benefits include:
Extra layer of protection from the sun

– (There are some that even come with sunblock in them!) Yorkies have fine hair covering their skin and that is it. It's very similar to human hair. Just like our scalps can burn with too much exposure to the sun, so can a Yorkie's skin. (and yes, they can also get skin cancer.)

Protection from becoming too dry

– During harsh winters, or in too much dry heat.

Adds Shine and Luster

– Helps keep their coat moisturized and healthy.

Helps strengthen the coat

– Leave in Conditioner actually helps prevent breaking and split ends, especially if you spritz just a bit on before brushing.

Aids in preventing and removing knots

– This is reason enough ALONE to use it on a Yorkie.

Helps repel dirt and dust

– keeping them cleaner longer.

Smells amaaazzing

🙂 – Who doesn't want their dog to smell great!?
Here are our favorite leave-in conditioners for Yorkies.
 Petology De-tangling and Leave-in spray – This spray has a coconut scent and it is natural, gentle, and sulfate free. It is safe for dogs and puppies of all ages and sizes. Eliminating odors, and giving your pet a fresh look and smell for multiple days at a time, is one of the things that this spray is capable of. It also offers long-lasting hydration and deep conditioning with ingredients like: Coconut Water, Coconut Oil, and Vitamin E. Other amazing vitamins and ingredients included in this spray are: A Patented vitamin complex of A, B-12, D, and E, Green Tea, and Chamomile. You can be sure that this spray will leave your dogs skin and coat nourished and revived!
 

The Stuff

– This "stuff" is formulated with silicone, to literally form a protective barrier on your dog, to repel dirt, dust, and urine. This will work wonders for keeping your dog cleaner, longer! It is hypoallergenic, and non-toxic, so you don't have to worry about it harming your pup. This spray conditions, and de-tangles, and is great for aiding in the removal of mats.
 Gerrard Larriett Aromatherapy Pet Care – This is a wonderful product!! It works as a leave-in conditioner with ingredients like Lanolin, Coconut Oil, Jojoba Oil, and Olive Oil. However, the really neat thing about this product is that is also works as sunscreen! It contains enriching vitamins and essential oils as well as UVA and UVB inhibitors. These inhibitors absorb the sun's rays before they can cause harm to the dog's skin and coat.

*We also love these adorable V-Hao Dog Sunscreen Jackets. Aren't they adorable!?! They are made with sun-protective nylon and professional anti-UV cloth. Another clever and super cute way to protect your pup from the sun's harmful rays.

Dry Shampoo
There are many dry shampoos that are perfect for the in-between weeks. Dry shampoo is exactly what it sounds like. It allows you to "shampoo" your dog, in-between baths, to help keep her clean and smelling fresh!
One of my personal favorites is – Wahl Waterless Shampoo. It is formulated with natural plant base cleansers, so you do not have to worry about any harsh chemicals. This product is PEG-80 Free, Alcohol Free, and Paraben Free to protect your dog's skin and coat. The scent is a lovely lavender, and leaves your dog feeling, looking, and smelling super fresh.
Another one we like is – Paw Choice Dry Shampoo in Mango & Pomegranate Scent. This foaming dry shampoo is also free from harsh chemicals and is Sulfate free. This shampoo works by killing odor causing bacteria within the dogs coat, so it isn't simply masking the smell, it is destroying it!
Last but not least, we really like the Waterless Shampoo by Burt's Bees. It is made with apple for skin nourishment, honey to leave the dog's coat super shiny and smooth, and Eucalyptus to deodorize. This product is super safe, pH balanced for dogs, and does not include: Parabens, Phthalates, or Petroleum.


*I have also used this Deodorizing Spray by Burt's Bees in between baths, and right after Willow's bath to help keep her smelling fresh longer! It is Apple and Eucalyptus scent, which I particularly like. This is not a dry shampoo however, it is just a deodorizing spray.
Squeaky Clean Canine Friend.

We hope this article has helped teach you how to keep your canine friend super clean and smelling amazing every day. Maintaining a regular bathing schedule not only greatly benefits your Yorkie and their health, but it also benefits you! Having a dog that feels, looks, and smells great will surely make you a happier pet owner, and help you to enjoy your pup the way you should!

If you have any questions at all about bathing your Yorkie, do not hesitate to ask in the comments section below! Willow and I will be sure to bark back at ya' as soon as we can! (A friendly bark of course.)… 😉
*We will be posting articles on how to brush a Yorkie's teeth, and how to clean their ears shortly! So stay tuned for those!*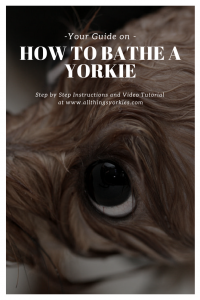 – Save this information for later, and help us spread the word by pinning this post to Pinterest!
Hover over or tap the photo to see the Pin it option.
FURTHER READING
– Interested in learning how to groom your Yorkie into an easy maintenance cut? Check out this article complete with video tutorials!
– Want to learn how to cut a Yorkie's nails, and how often you should do it? Click here!
– Are Yorkie's truly hypoallergenic dogs?? Check out this post to learn the truth!
Share and like us on Social Media!