Using a harness is a better choice for your dog than a traditional collar, especially if your dog pulls on the leash. We are going to look at some dog harnesses for small dogs, talk about the importance of using one, and I will list some of my favorite harnesses that I have used for my Yorkies!
It can be really difficult to find a GOOD harness for a very small dog. There are some more expensive, higher end brands that look amazing, but a lot of them do not get smaller than a 16″ chest measurement. This would fit most small breed dogs, but my focus here at All Things Yorkies, is of course, Yorkies. 🙂  So I wanted to do a post geared towards very small dogs. If you have a Yorkie, Maltese, Chihuahua, Pomeranian, or any other breed around that size range, this post is for you!
I have included ONE harness in my recommendations that is bigger. The smallest size is a 16″ chest measurement. So if you have a larger than normal Yorkie, or a bit larger breed than the ones mentioned above, that one could be a good option for you.
Protect your dog's trachea
Small dogs are especially susceptible to a condition called collapsed trachea. Collapsed trachea is a chronic and progressive disease that requires medical management, and in serious cases, highly specialized surgery to repair it.
In most cases a dog is either born with this issue, or develops it after already suffering from Chronic Respiratory disease, heart disease, or Cushing's disease. Some breeds seem to have an inherited abnormality which causes the cartilage in the trachea to be weaker than most other breeds. Yorkshire Terriers are on the top of the list of breeds commonly affected by this, so Yorkie owners especially, should take extra precautions to try to prevent this disease.
There are a few things that you can do to help reduce the risk of your dog developing collapsed trachea. One of those things is purchasing a harness for your pet instead of a traditional collar.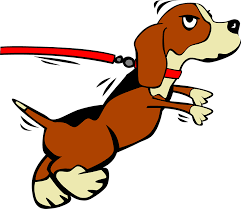 A traditional collar goes around the neck, and the leash attaches to a loop on the collar. When a dog pulls wearing a traditional collar, it puts a lot of pressure on their throat, and can cause, and/or worsen collapsed trachea.
Harnesses go around the chest, behind the front legs, and sometimes around the base of the neck, below the trachea. The hook to attach the leash is usually on the top of the harness between the dogs shoulders. When a dog pulls on the leash while wearing a harness, the pressure is put onto the dogs chest, instead of the upper neck where there trachea is. This is not only safer, but also much more comfortable for the dog.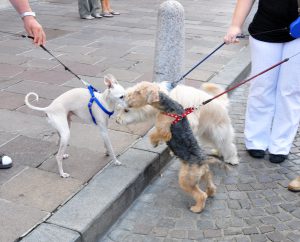 Speaking of Safety…
Some dogs manage to escape from traditional collars when they are pulling really hard, or moving their head rapidly. A harness is a lot harder to maneuver out of, which makes them a safer option for this reason as well. Furthermore, it is easier to control a pulling or lunging dog while they are in a harness rather than a collar.
So you get it. Harnesses are good, harnesses are great… now let's get into some reviews and recommendations!
Some of my favorite harnesses for small dogs.
1. Treasborn adjustable dog harness

 – I have this for my Yorkie and I love it. It is adjustable so you can get a nice tight fit. However, it is not made for dogs with a chest measurement under 13 inches around. My Yorkie just surpasses this, so you will definitely want to measure your dog if he/she is super tiny. It is a pretty simple harness, nothing fancy, but it is actually one of my favorites because it feels very secure. (my dog has not been able to escape from it) It is also good quality. I have had it for about three years and it is still going strong.
– The leash that comes with it in the link that I am providing did not come with my harness when I bought it, so I don't know personally how it is. Most people in the reviews say it's good, or don't mention it at all, but a few people did say it is a bit short only being 47 inches in length.


 Con – There is no padding. If you want a harness that looks super plush and comfy for your dog, this is not the one for you. However, I use this on my dog more than any other harness I have, and it does not give my dog any trouble. She seems comfortable, and is always excited to wear it for her walks!
2. DEXDOG EZharness

– I really like this harness. It's not one that I personally own for my Yorkie, but it has great reviews! It works well for small dogs, and because of its design, it doesn't rub under their arms like a lot of other ones do. It has adjustable straps, and reflective stitching to help your dog be seen at night. It is super easy to get on and off, which is one of the biggest Pros of this harness.
– This harness has an XXS size available for dogs between 4 and 7lbs.
-There is a special edition version of this harness available which is fleece lined for extra comfort! I included both links below.



Con – A few people mentioned that their dogs were able to get a leg out of the harness when they were rolling around, but most buyers are very happy with it. 
– Matching Leashes for the DEXDOG EZharness.
3. EcoBark comfort dog harness

– This harness is made out of a breathable mesh material to help your dog stay cool, and the straps are made from recycled water bottles. Yay for Eco-friendly! It's no choke design ensures protection for the trachea, and it even has added padding around the neck opening. This is a soft, cushioned, and comfortable option if you are concerned about chaffing for your dog.
– Also available in an extra small. Perfect for those teeny dogs under 6lbs.


Con – There have been some complaints that the sizes are not consistent. I did not have this problem. I measured my Yorkie as they recommended, ordered the size within those measurements, and it fits her very well.


–
Matching Leashes are available for the EcoBark harnesses! 
4. Blueberry Harness

– I adore this harness. I think the design and colors are beautiful, and it is very nice quality. It is lightweight, has adjustable chest and neck straps, and the plastic is also made from Eco-friendly materials. This harness will do a very good job protecting your dogs neck, and will give you good control while walking. A lot of people who use this harness claim that it has helped their dog to walk better on a leash, so that is a big plus! My favorite feature about this harness is the reflective patches. There is a reflective triangle and stripes on the top for safety in the dark! This is such a cool feature for those early morning or late night jogs.
– Unfortunately, the smallest size in this harness is too big on my Yorkie… sadness… or else I would totally have one of them for her.

 Con – The smallest size is for a 16.5″-21.5″ Chest Girth. This would be too large for very small breeds. Most likely any dog that is around 7lbs or less could not wear this harness.



– Matching leashes are available for these harnesses as well, which I just love!!
5. Expawlorer harness

– This a sturdy harness for a small dog. It has two leash attachment points, one on the back in the usual place, and one on the chest. It comes in 7 fun colors and also has reflective stitching for safety at night. This harness has a handle on the back to use with a seat belt, or to hold your dog back if needed. It would be a great choice if your dog rides in the car with you often, or if your dog is a lunger/jumper around other dogs or people.
– It has an extra small option which is small enough for my 6lb Yorkie, but may still be too big on dogs smaller than 6lbs.

Con – Most of the reviews for this harness are great, but there are a few reviews that say the harness tore in one place or another when their dog was pulling hard, or just over time. However, I did notice that those reviews were from owners with larger size dogs, and the company does state that these are most effective for small to medium size dogs. 
-The leash I included below isn't made by Expawlorer, but it comes in similar colors to the harness, and for every leash sold, one is donated to a dog rescue! So Cool.
Max and Neo double handed dog leash

Teach your dog to heel if you can.
Even though a harness can protect your dogs neck, and keep them from getting loose, the best way to avoid all of this is to teach your dog how to walk on a lead properly.
I totally get it… Life gets busy. Maybe a new baby comes along, or you get a different job, or maybe you just adopted a dog from a shelter, but he is a terror on a leash. No judgment zone. I definitely get it… There are many reasons why your dog may not know how to heel, and before he learns this, a harness is definitely the way to go, but teaching your dog to heel is such a rewarding experience. It will make walks WAY more enjoyable for both of you, and it will also teach your dog that you are the leader, which is an important lesson for every dog to learn. If they recognize that you are the pack leader, it will save you from many other behavioral issues down the line.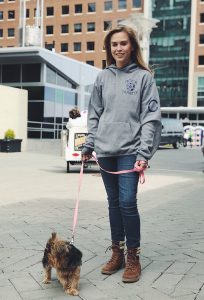 It is important to build this trust through positive reinforcement training. Trying to teach your dog to heel by yelling, jerking on the leash, or by using a contraption that is painful for the dog, will not build a strong trusting relationship with your pup. Training is a lot of work, and takes a lot of patience, but it will greatly benefit your dog both physically and mentally.
If you are unsure where to start, try looking up some videos on YouTube. There are a TON of helpful videos for teaching a dog to heel, and walk properly on a leash. One of my favorite YouTube dog trainers is Stonnie Dennis. He is amazing with dogs, and his videos are incredibly helpful.
If you're still having trouble with your dog, consider finding a trainer to help you. Trust me, it would be SO worth it!
So that's it folks!
Now you know why a harness is good for your pup, and a few good options that are out there for small dogs. Every dog is different. Some dogs will do better with a softer harness, and others with a tighter more secure harness. Some dogs won't be bothered by a harness rubbing under their arms, and other dogs will be sensitive to it. It may take a bit of experimenting to find the one that you and your pup loves, but these are a good starting point! 🙂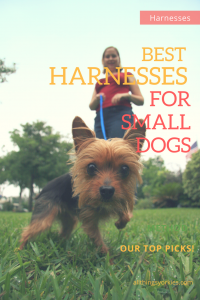 – Save this information for later, and help us spread the word by pinning this post to Pinterest!
Hover over, or tap the photo to see the Pin it option.
To read more about Collapsed Trachea and other common health issues that are seen in Yorkies, click here.
Looking for a great food option for your small dog? Check out this post to learn more!
Share and like us on Social Media!