In this post we are going to focus on Yorkie puppies and more specifically, what you should be putting in their cute little tummies.
A Yorkie puppy's first year is a critical time in their life to be receiving the best nutrients possible for healthy growth, brain development, and to keep them from becoming hypoglycemic. Puppies require a slightly different diet than an adult dog, so in this post we are going to talk about the best dog food for Yorkie puppies, (in our opinion) and why we think these would make great choices!
Why Yorkie puppies should be on puppy food.
Puppies are busy, and therefor, require higher protein, and energy levels in their food to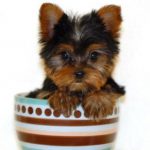 keep up with their body's demand to refuel, and grow. Puppy foods are specially formulated to meet those demands, giving your puppy plenty of pep in their step, while supporting their growing body. These foods also have different calcium and phosphorous levels to strengthen their bones and encourage proper development.
Feeding a puppy an adult dog food can lead to nutritional deficiencies, or imbalances within the body. Some adult foods may even have an excessive amount of certain ingredients when given to a puppy. It is best, and highly recommended, to put your pup on food that is designed for their growing needs.
Puppy foods should NOT contain:
Meat byproducts
Controversial chemical preservatives
Artificial colors
Generic animal fats
They SHOULD contain:
High levels of protein from a true meat source
Reasonable fat-to-protein ratios
Relatively moderate amount of carbohydrates
Yorkie puppies should remain on a puppy diet until they reach one year of age.
How do you know if food is designed for a puppy?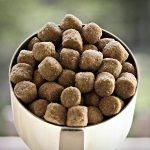 Many puppy foods are easy to pick out because it says it is for puppies right on the front of the bag. If the bag doesn't make this obvious, then you must look for the AAFCO nutritional adequacy statement listed on the dog food packaging.
This would read something like this:
This product is complete and balanced to meet the nutritional levels established by the AAFCO dog food nutrient profiles for…
The letters A or G would be enclosed in brackets, [A], [G], at the end of the recipe in the review. These are the symbols for All Life Stages, and Growth and Reproduction. If the food is labeled for Adult Maintenance – [M] or for Supplemental Feeding Only – [S] then this food would not be suited for a growing puppy.
Our top three dry dog food choices for a Yorkie puppy.
(Puppy Formula) – [G]
Why we love this food:
Formulated for puppies. – It is Protein rich from great sources, Chicken, Turkey and Salmon, and has the added calories and DHA necessary for proper development in puppies.
All Natural – It does not contain wheat, corn, soy, meat by-products, artificial colors, flavors or preservatives.
Grain Free – 100% Grain free while still being complete and balanced for your puppy.
Made in the USA – Proudly made only in the USA.


2. Merrick Lil' Plates Grain Free Real Salmon and Sweet Potato
(All Life Stages) – [A]
Why we love this food:
Poultry/Beef free – A lot of food allergies are caused either by grains, poultry based proteins, or beef. We like that this food uses Salmon to possibly avoid issues with protein allergies.
Grain Free – This food is also 100% grain free making it a great choice for a food sensitive Yorkie.
All Natural – No wheat, corn, soy, meat by-products, artificial colors, flavors, or preservatives. Is also gluten free.
Made in the USA – Proudly made in the USA
Guaranteed – Not satisfied? Merrick has a money back guarantee if you are not 100% happy with it.


*Note* They have a grain free option specifically for puppies as well, which would also be a great choice, but that food is made with chicken and sweet potato, and I wanted to give a more "food sensitive" option.
3. Acana Regionals Appalachian Ranch
(All Life Stages) [A]
Why we love this food:
Meat Protein – Very high in meat protein. The meats used in this specific formula a Beef, Pork, and Lamb.
All Natural – No wheat, corn, soy, meat byproducts, artificial colors, flavors or preservatives.
Grain Free – 100% free of grains.
Some raw – Some ingredients in Acana Regionals foods are raw which mimics a dog's natural diet in the wild.
Con – This food is pricey, but it is great quality.


Yorkie puppies and Hypoglycemia.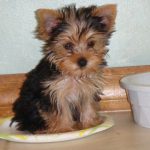 Yorkie puppies, (and some other toy breeds) need a puppy food that has high levels protein and energy providing ingredients to assist in preventing hypoglycemia. This breed is prone to becoming hypoglycemic especially within the first four months of life.
When you bring a Yorkie puppy home you should feed your puppy right away, and then feed them again every 3-4 hours. They are so tiny, and they burn energy incredibly fast. If they use their stored energy too quickly without it being replenished, a hypoglycemic attack can occur. This is a very dangerous condition that needs to be treated immediately.
It would be wise to have some Nutri-cal or Nutri-stat paste on hand to use for prevention. When I got my pup, I was advised by the breeder to put a pea size amount of dark Kero syrup in her drinking water to keep her blood sugar levels stabilized, and to also rub a small amount of Nutri-Cal on her gums first thing in the morning, and before bed. Doing this, along with feeding a high quality puppy food every 3-4 hours, (and every 5 hours through the night at first!) worked well for us, and she never had any issues. Prevention is best!!

Once the four month mark is past, you can slowly begin to space out the feedings farther apart until you are down to two feedings per day. I was still giving 3-4 small meals per day until my Yorkie was a year old. Just to play it safe.
It is very important to be fully educated about hypoglycemia before you bring a Yorkie puppy home. To learn more, read our post on Common Health Issues Here.
Set the stage for a long and healthy life.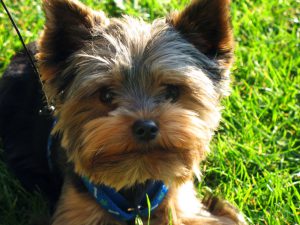 Feeding a quality dog food is crucial for the longevity of your Yorkie's health. A proper food that is full of nutritious ingredients to suit your puppy's needs, will help ensure that your pup grows strong muscles and bones, limits the possibility of developing diseases, and will provide your best friend with the energy and stamina he needs to chase squirrels tirelessly! 😉
By investing in your pups health from the very beginning, you will avoid some trips to the Vet in the future, and gain endless happy memories for years to come.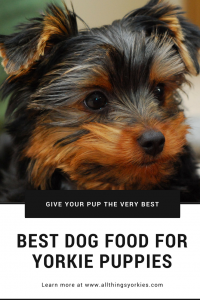 – Save this information for later, and help us spread the word by pinning this post to Pinterest!
Hover over, or tap the photo to see the Pin it option.
To read about our top dry food picks for adult Yorkies, Click Here!
Share and like us on Social Media!